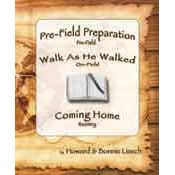 Walk As He Walked 3 part Combo Book #1 [616WAHW3pCombo]
$14.50
In Stock: 8 available
 Walk As He Walked 3 part COMBO book 
7 Pre-field, 14 On-Field, and 14 Reentry devotional  Book #1
(BEST SELLER-Always in Stock)
Authors:  Howard & Bonnie Lisech
 At last! By popular demand – 3 separate books combined into ONE NEW spiral bound volume.
A SINGLE spiral bound volume containing 7 Pre-field, 14 On-Field, and 14 Reentry devotional Bible study/spiritual journals.
Tested and true material written with todays' STMers in mind.  This innovative volume will help your team members grow spiritually during all 3 distinct phases (including Preparation,  Culture-Shock and Reentry Stress) of the STM missions experience.
Help guide those you are sending to a closer walk with God by engaging them with enriching devotional Bible studies presented in an appealing yet inexpensive  format. 
Maximize their STM experience by providing 35 days of quality spiritual input for less than 1% of the average overseas per-person trip cost.
Get the 7 day Pre-Field + 14 day On-Field + 14 day Reentry edition "COMBO" book now!
 Satisfaction Guaranteed!

#616WAHW3pCOMBO…. $14.50  Book 1 in the 3 part COMBO series.