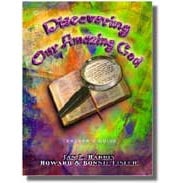 (Home School) Discovering Our Amazing God Student Workbook (Book 1, best for 7th Grade)
$21.95
In Stock: 211 available
Discovering Our Amazing God (Best for 7th Grade)
HOME SCHOOL Student Workbook
This exciting 7th grade Bible Curriculum deliberately focuses on some of the less familiar stories and events in the Bible to give students a new appreciation of our loving God. Drawings, and suggested activities intermingled with inductive Bible study will interest students.  We use several different way of getting a student's attention and keeping the student from being bored.  Some questions require filling in blanks, or drawing a picture, or writiing a paragraph, or completing in a chart.  We have heard from some that "Bible is our student's favorite subject!"
Each lesson introduces an unreached people group in our world to broaden student's understanding. The Student Workbook includes reflection or journal pages to help students organize and record their new appreciation of our amazing Creator and our God in their own personal journey. 
Jan L. Harris, Howard & Bonnie Lisech, Deeper Roots Publications
Want to see the Old School House Magazine review?  If this link doesn't work you can copy and paste it in your bowser to see the original review.
http://www.theoldschoolhouse.com/product-reviews/?rid=2546
DRP Price $21.95
WANT TO MOVE YOUR STUDENT(S) FROM BIBLICAL KNOWLEDGE TO SPIRITUAL APPLICATION?
Would you like to better understand how the following books work TOGETHER and compliment each other by building PRECEPT UPON PRECEPT to help YOU reach this essential goal?  Read the descriptions of each book in the set.
Discovering Our Amazing God  Book 1  (Best for 7th Grade)
Discovering Who I Am in Christ  Book 2  (Best for 8th Grade)
Discovering Christ-Like Habits  Book 3  (Best for 9th Grade)
Discovering a Christ-Like Character  Book 4  (Best for 10th Grade)
Download a FREE pdf composite of introductory pages, table of contents, and a sample lesson from the DISCOVERING OUR AMAZING GOD Teacher's Guide sample at the bottom of the DISCOVERING OUR AMAZING GOD Teacher's Guide product description.  (Note: The Teacher's Guide also shows the Student Workbook materials on the right side of each page) 
| | |
| --- | --- |
| Weight | 1.3lbs |
| Length | 9in |
| Width | 12in |