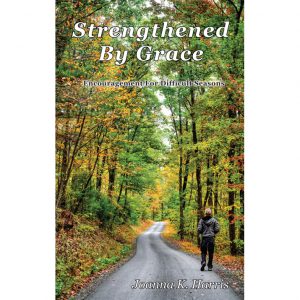 Strengthened By Grace – Paperback
$10.95
In Stock
Strengthened By Grace   
– Encouragement For Difficult Seasons
by Joanna K. Harris
                                 NEW Book   
            Perfect for Christmas gifts.
Now Shipping 
"Life is full of hardships and trials, but God's grace is always available to us, stronger than our need…His strengthening grace that enables me to persevere, to stand firm and to hold onto hope."
Are you in a difficult season? Do you feel in need of encouragement? Strengthened By Grace contains 52 devotions written by someone who understands hardships and who has experienced God's grace in trials. You'll be encouraged by truths and testimonies of God's love and faithfulness. Above all, you'll find riches of His unceasing, strengthening grace.
"Strengthened By Grace is a book born out of experience. Each chapter presents practical biblical truth in a personable and meaningful way. Each page uplifts you and brings you face to face with the majesty and glory of God. Wherever you are in your spiritual journey, this book will be an encouragement to you." –Dr. Adam McClendon, Pastor of Springhill Baptist Church
"Joanna K. Harris has given me such encouragement through her books. I have read and reread Grace In Time Of Need. The poems and devotions are written from a heart that knows suffering but has found God's grace. You will be delighted to find a young author so in love with her God." –Olivia Wolf, UIM Missionary
"Read a chapter from Strengthened By Grace on Joanna's blog."
http://joyoharris.blogspot.com/2016/11/new-book-coming-soon-nuevo-libro-pronto.html
(Copy and paste in your browser if link doesn't work)
–
119StrengthGrace  Paperback    DRP price:  $10.95