Description
The Next Mile – GOer Guide – Youth Edition
Goer Guide – Youth Edition (for ages 13-19)
The Next Mile Goer Guide offers a Youth and All-Age Edition. The Youth Edition is designed for ages 13-19, and the All-Age Edition is for use in multi-generation teams. Included in the Goer Guide is a Spiritual Journal with daily Bible readings and space to journal, record thoughts from Scripture, and write prayer requests.
This helpful tool begins 14 days before departure and continues for 7 days after the conclusion of a Short-Term trip.
In a sealed envelope inside the Goer Guide is a MENTOR GUIDE that serves as a simple, yet powerful and practical resource for Mentors.
Format: Paperback
Dimensions: 5.5″ x 8 7/16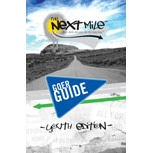 "
Pages: 128
ISBN: 1932805-613
DRP Price: $11.99